OUR STORY

HISTORY
1994

Straydog was founded in East Texas by Pat and Bill Arnold. Pat's vision and perpetual love of animals set the tone for our work. The mission was based upon dedication to the no-kill mission and commitment to rescue, rehabilitate, and rehome abandoned, abused, and surrendered dogs. Learn more about our history here.

2003

In May, her family along with the Straydog community, unexpectedly lost Pat Arnold. Her last words were, "Take care of my dogs while I'm gone." Bill Arnold and Juana Vazquez worked together trying to continue Pat's dream for her 65 dogs. They vowed to never give up and strive to see her last dog either in a "fur-ever" home or living a long and happy life at the sanctuary.

2006

Bill and Juana were married and taking up to 110 dogs at any one time. Generous supporters like Pam and husband Gary donated the first building, we call H2 provides shelter for 20 dogs. 

2018

Bill Arnold retired. Juana Arnold and Pam Bollinger, with the support of the board and volunteers continue the mission as co-presidents of Straydog Inc. With 160 dogs and three buildings, the goal is to build a master care building where all dogs can be kept indoors with convenient access to the outdoors, as well. Learn more about Straydog through the eyes of Juana Arnold.
VALUES

Rescue
Straydog provides every rescue a healthy, happy life until a forever home is found.
Sanctuary
We are a sanctuary for dogs who are never adopted.
Health
All dogs receive necessary medical care in addition to being spayed, neutered, vaccinated, and treated for heartworm prevention.
Safety
We have exceptionally clean, large outdoor kennel yards for compatible dogs that are kept together. Indoor kennels provide safety and security for young puppies, seniors, and dogs recovering from illness.
Quality Time
All our dogs have daily walks and quality time with our caregivers from petting, brushing, ball playing, and hugs to treats that are part of their daily routine.
Adoption
Our team holds adoption days weekly and various special events annually.
Educate
We educate and counsel the public about spaying and neutering!
Happiness
A mandatory adoption/home-visit process assures all adopted dogs will continue to be safe and have a happy forever home.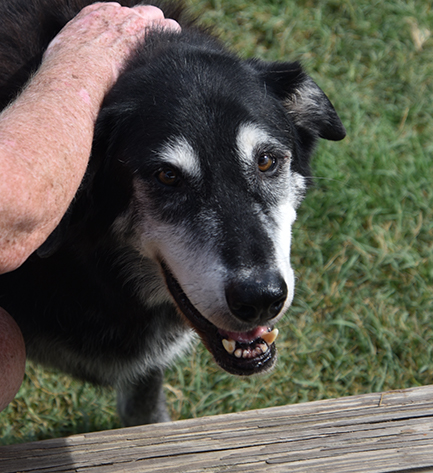 OUR MISSION
To rescue and rehabilitate homeless and abandoned dogs in a no-kill environment until each is adopted into a caring, loving home; and to act as a sanctuary for those dogs who are never adopted.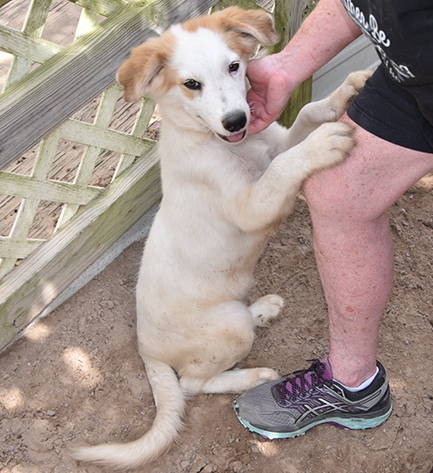 OUR VISION
All dogs will live in a safe and loving home.
OUR TEAM
Our dogs are cared for by 15 staff members including Juana Arnold, Shelter Director, and her Leadership Team pictured here.
JUANA
JORGE
CHELSEA
RONNIE
SHERRI
BOARD OF DIRECTORS
Pam Bollinger, Co-President - Pam is an avid animal lover, experienced animal rescue volunteer and long time supporter of Straydog. She brings her passion for the mission to the board as co-president, volunteer coordinator, and adopter of 8 former Straydog residents.
Juana Vazquez, Co-President - Juana's passion for dogs since childhood led her to begin working with Straydog founder Pat Arnold in 2001. She learned everything from Pat and committed to caring for the pups always. Juana doesn't look at her work as a "job" at all. With the ups and downs of running a shelter and sanctuary, she treats the pups as if they were her own children seeing the family through so many happy endings mixed in with a few tough challenges as well.
Don Cristopher, Vice President - Don got involved with Straydog years ago and is a strong advocate for the health, sheltering and long term care of the Straydog family. He and his wife Kim have cared for over 30 dogs, keeping many doggie families, mostly rescues.
VaLissa Padgett, Treasurer - VaLissa is a long-time supporter of Straydog and was a Straydog mom to Reba for 13 years until Reba was called to heaven in 2022. She is currently mom to two wonderful strays and has rescued and homed several others, often with the help of Straydog. VaLissa is a CPA with 30-years of public tax practice experience and has served on the board of multiple other organizations. She has longed for years to volunteer and serve Straydog more extensively and is thrilled to finally have the time and opportunity to do so.
Diana George, Secretary - Diana gives her time to Straydog because the organization serves not only as a shelter, but also as a sanctuary that offers special dogs, who cannot be adopted, a loving and caring home for life.
Laura Gorecki, Director - Laura joined the board in 2019 and brings 10+ years of experience in and tons of passion for animal rescue, combined with extensive career experience with nonprofit organizations.
Joe Cavagnaro, Director
OUR FACILITY