We're thankful for Margaret and Dan, the couple who adopted puppy Pebbles! Margaret works for Neiman Marcus corporate and met up with us at our Neiman Marcus Willow Bend Adoption Day. She and Dan fell in love with Pebbles and after a great home visit, and Pebbles meeting her canine sibling Luna, she became a full-fledged family member!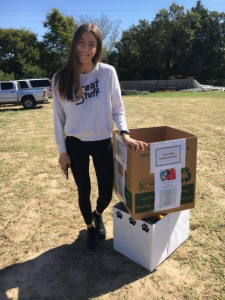 Margaret with some of the gifts!
Unbeknownst to us, and along with the support of Neiman Marcus, Margaret started a donation drive for Straydog and delivered an extra helpful haul. Our pups will benefit from these wonderful gifts! Thank you, Margaret and Dan! Pebbles is one lucky dog!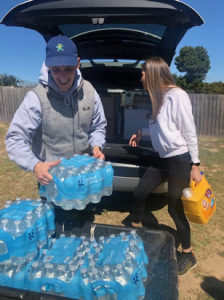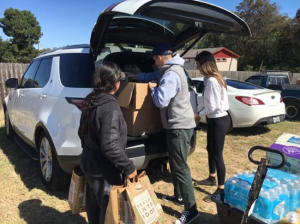 Margaret and Dan unloading the haul.
From Margaret, post-adoption: "In 2017 we adopted our first puppy, Luna, from a sad situation. She quickly adjusted to our lifestyle, but was in need of a canine companion. We were very anxious when David from Straydog brought Pebbles over on New Year's Day to meet Luna for the first time. But the two hit it off immediately, so much so that we almost considered changing Luna's name to Bam-Bam! Needless to say, the two have been inseparable ever since. Pebbles has helped Luna with her social anxiety around other dogs and humans. They make a great pair and we love them very much.
Pebbles is intelligent, playful and loving. She always greets you with a wagging tail and funny little grin that screams hug me! She has a heart of gold and truly is a friend to all. We are so grateful to Straydog for bringing Pebbles into our lives and all of the other dogs they place into loving homes.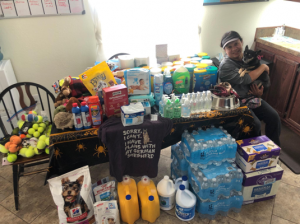 Juana Arnold