Here are some reminders for making sure your pup has a sweet day, too!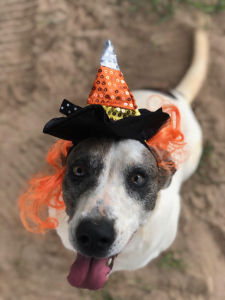 Callie moonlights as a witch.
Don't fool yourself with costumes!
Dog costumes can be cute, but there's a good chance your dog finds it irritating or frustrating. It's helpful to ask yourself if they are acting like themselves? Are they trying to get it off? Are they excessively "smiling" and or panting? If so, they are stressed. Other signs to watch for are strange breathing patterns, zooming or rolling to try and get it off, or moving less due to discomfort. Instead, try a festive bandana as a great seasonal option!
Don't let the treats trick you!
If you suspect your pet has ingested something toxic, call your vet or call the ASPCA Poison Control Center at 888-426-4435. All forms of chocolate are dangerous and can even be lethal for dogs and cats. Sugar-free and some natural candies often contain xylitol (sugar substitute) which can also cause serious illness.
Show problems the door!
Dogs are great at wanting to guard and alert us. A house door opening and closing consistently can be stressful for them, and barking can be alarming for trick-or-treaters. To prevent getaway attempts and startled pups, keep pets in a separate room or in their crate with a treat or toy. That way they get a treat too.
Use caution with candles!
According to the National Fire Prevention Assoc., on average 23 home candle fires are reported each day. Candles are especially fantastic on Halloween for a spooky feel, but they can be easily knocked over or placed near or moved too close to potential fuel. Keep your pups and homes safe by never leaving a candle unattended and place them well out of the way of young people and animals.
Have a safe and happy holiday!