A preface to Lana's Story:  We have been proud supporters of Straydog since adopting our youngest dog, Pebbles, at a "Clear the Shelter" event. Since then, we have been involved in several initiatives supporting the growth and awareness of Straydog.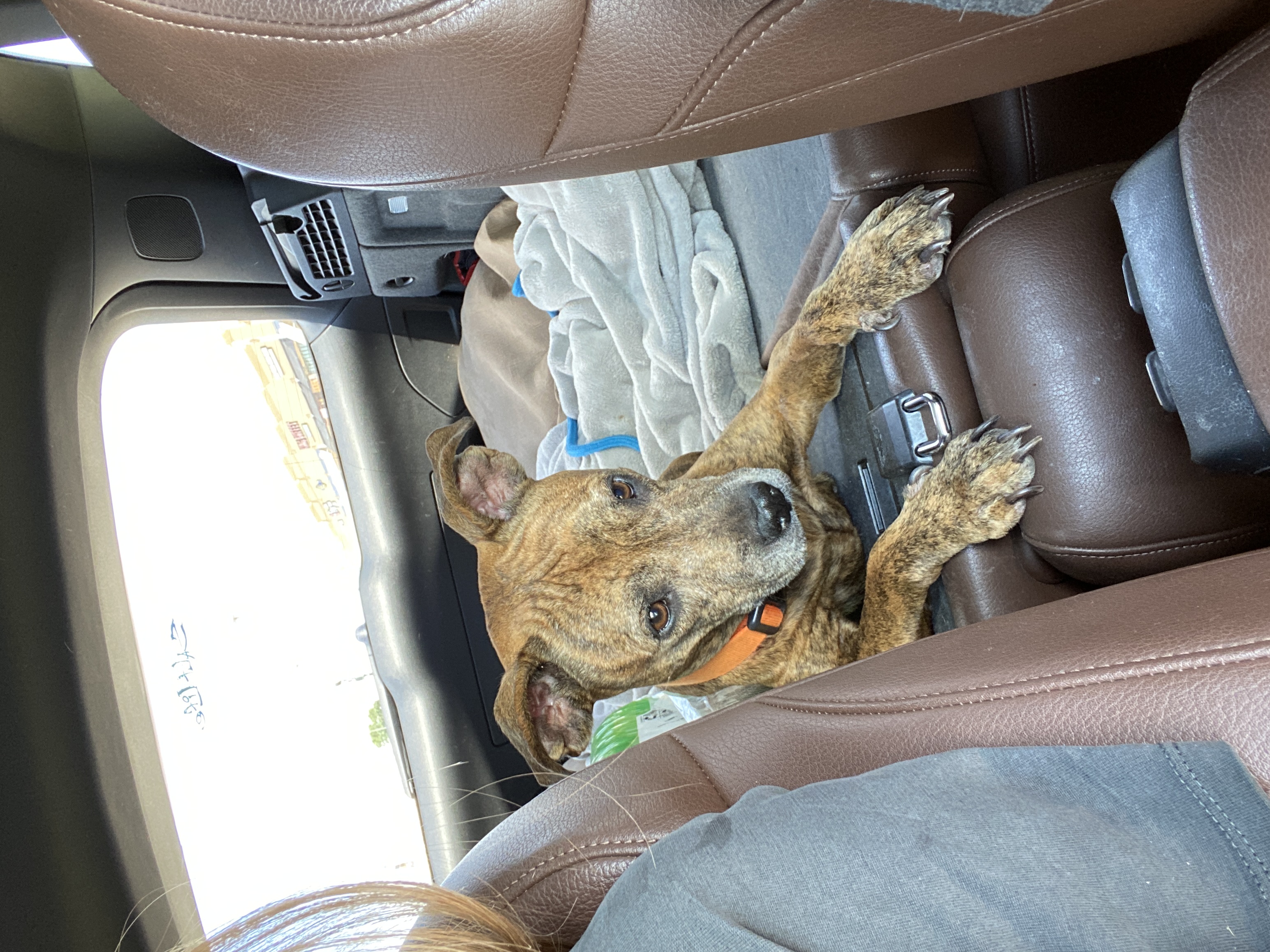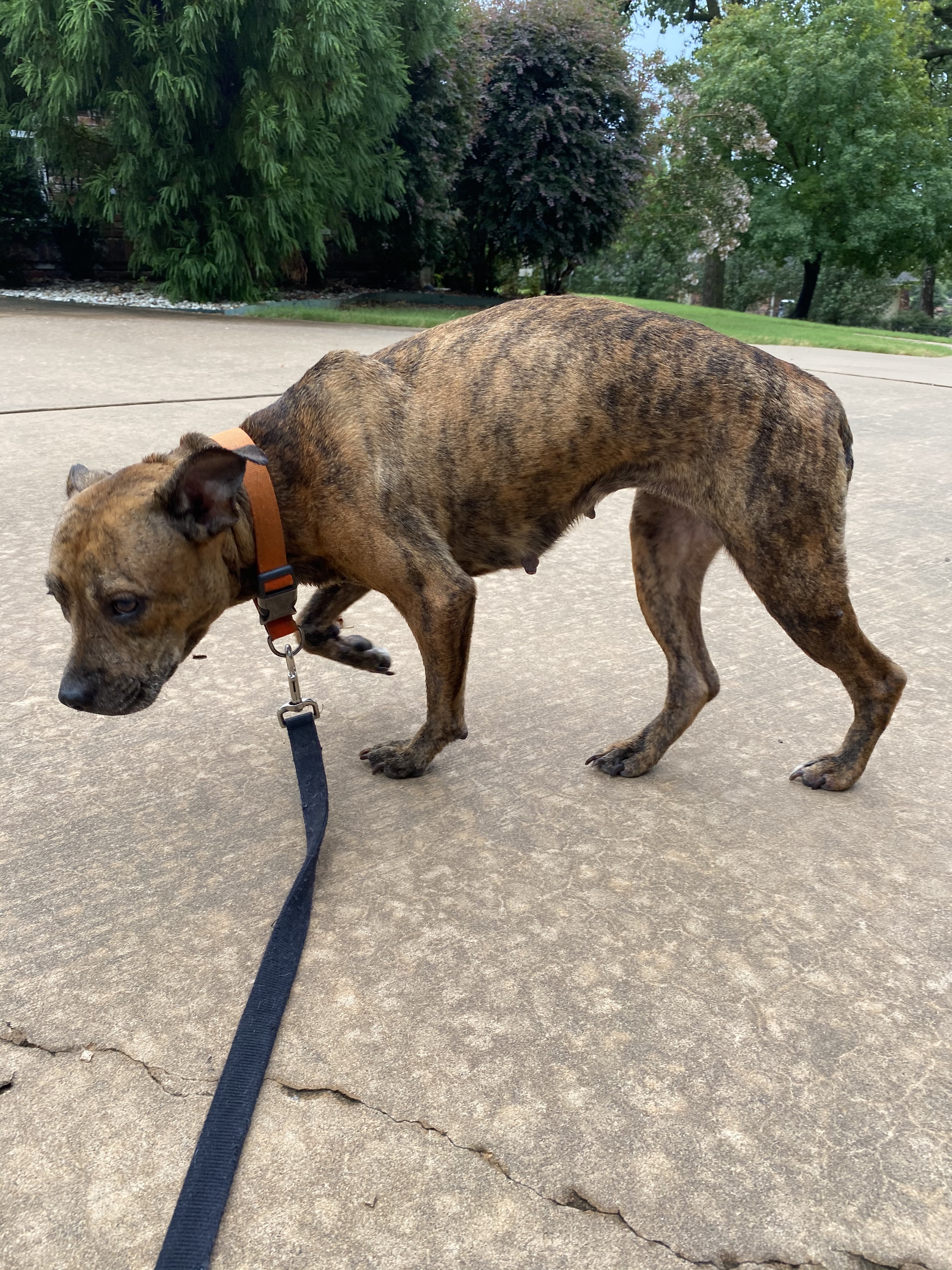 Our found girl, Lana:  I was visiting my parents in Okmulgee, Oklahoma, and one day, when driving back from a day out shopping, we spotted a dog near I-75, about to step in front of oncoming traffic. My father and I whipped the vehicle around and opened our door to see if she would jump in. However, this sweet soul had gone through so much, that putting her trust into us took well over two hours. It took sitting in wet grass, offering any food we had available, and several attempts to get her safely to the car without making her feel uncomfortable or fearful.
When we finally got Lana into the car and to a safe place, we noticed that she was extremely emaciated, had a nasty cough with mucus running from her nose, she was favoring her back left leg, and looked like she had recently birthed a litter of puppies. While we will never know her story, we can guess that she either escaped from a terrible situation or was left abandoned in the middle of nowhere after giving her previous owner a litter of puppies.
My family was heartbroken at the thoughts of what she had been through, but we knew that whatever had happened in her past, we were going to do whatever we could do to ensure her future was only filled with love and devotion.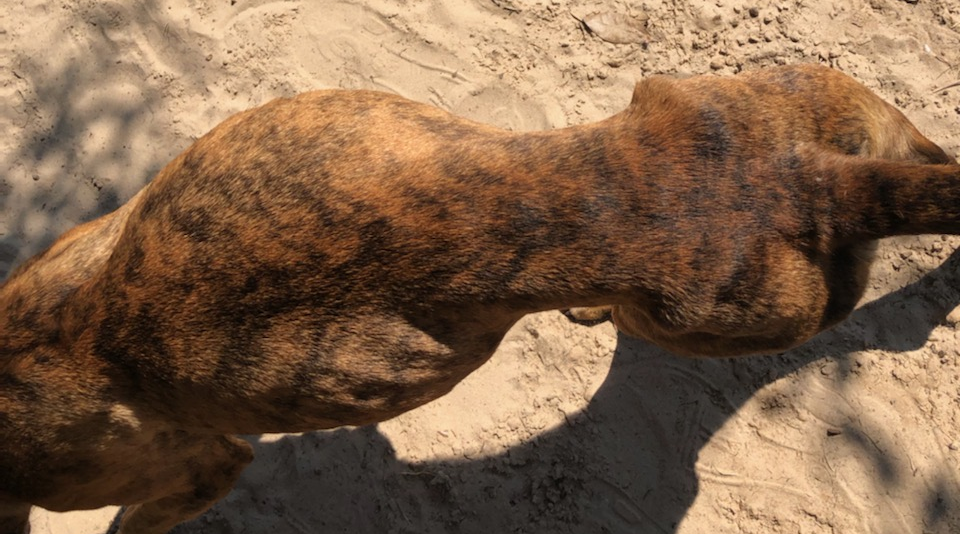 Finding her a rescue:  We knew that due the condition she was found, Lana would need immediate medical attention. My parents and I are all lifelong dog lovers – they currently have 3 and I have 2. With that said, we know how much veterinary bills can be, and while rescuing a dog is something we will always do, finding financial resources for their care is a challenge. So, as soon as Lana had a bath and a comfortable space, I started making calls.
After making several calls to veterinarians, I was quickly reminded of the unprecedented time in which we find ourselves. Covid had put a strain on everyone's resources, and not only were we unable to find any financial backing on Lana's care, but we also could not find a single rescue organization in the region that could make space for this sweet girl. After hours of calling around, I finally spoke with someone at the Humane Society of Okmulgee. The worker there said that their shelter space was over capacity due to the increased number of strays and surrenders. However, she was able to pre-authorize a pet examination with their vet, along with additional care if needed. This gave us a little more time to search for a rescue.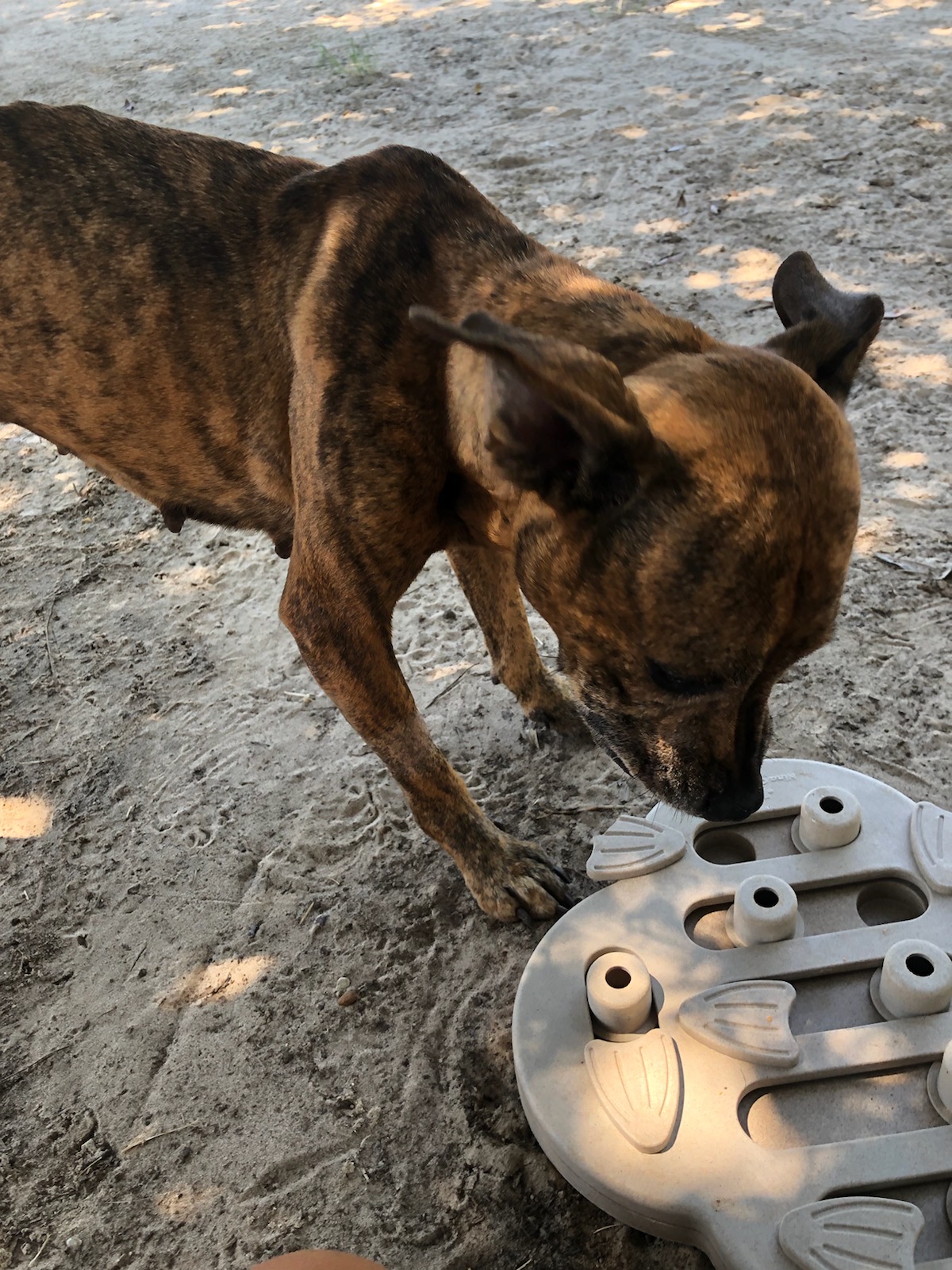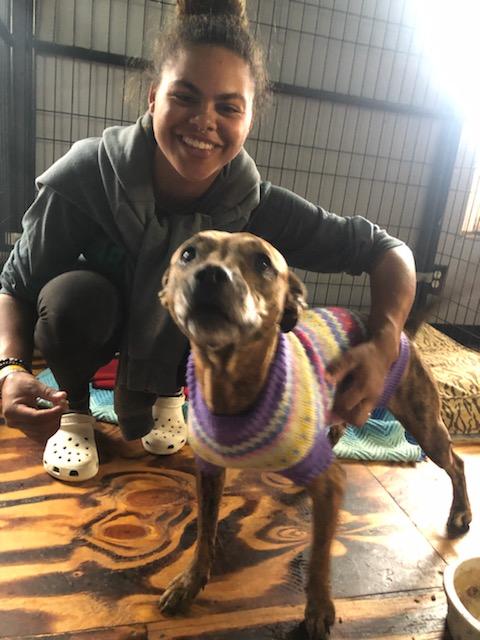 Lana's trip to Texas:  After calling every organization in the vicinity of Okmulgee, we still found ourselves with no shelter for Lana. At this time I realized that there was one other person I could count on to step in and help, and that was Juana Arnold and the Straydog Team. They were also dealing with capacity constraints, but they were determined to help. The following weekend, I met my parents half between both residences to pick up Lana and transport her to Straydog No-Kill Shelter and Sanctuary. Lana is receiving extensive medical care, but she is getting better and stronger every day. Lana will be safe, loved, and cared for at Straydog until she is well enough to find her forever home.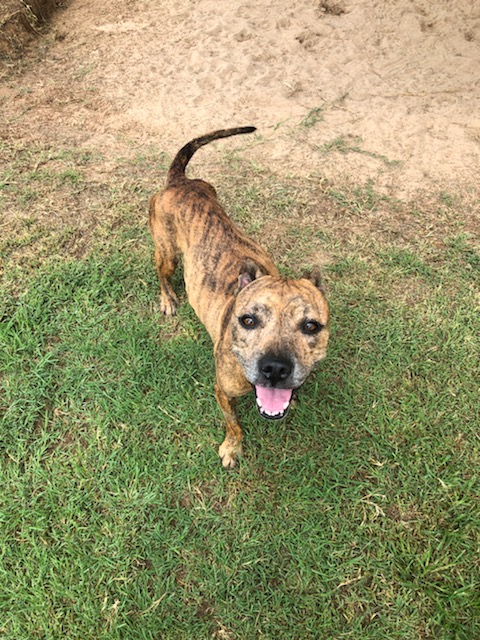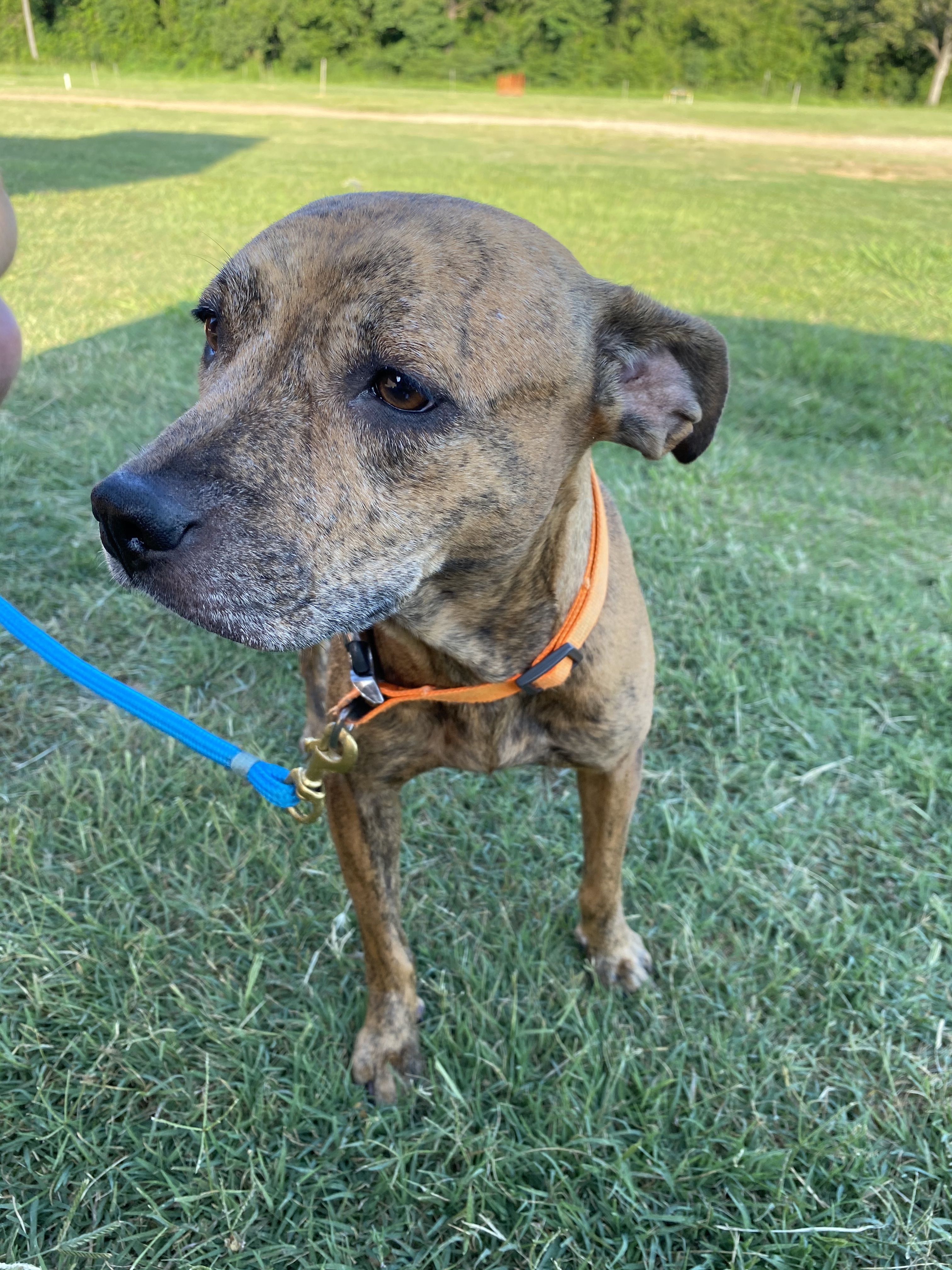 A final note: Straydog made us feel like Lana and ourselves were the only ones they were helping, because we received that much guidance, love, and support. However, during all of this it is key to know that Straydog cares for 150+ of our furry friends every single day. Like Lana, many of their dogs come from similar or worse backgrounds. While we will never know the full story of a stray dog, what we will know is the story we can create for them as they move forward with the love and devotion they receive from Straydog's team and supporters
If you have made it this far in the story, I would like to request that you keep Lana's journey in your heart and share it with others in your circle. Animal welfare organizations have been severely hurt by Covid, with already limited resources, cancelation of large fundraising events, and reductions in regular donations. Straydog and our sweet Lana need your help. Please consider making a financial gift in any amount by clicking the button below .